Arnaud Bamberger, Executive Chairman of Cartier UK, says, in an exclusive interview for LUXOS, "Alberto Santos-Dumont was the person for whom the first wristwatch was created by Louis Cartier, at the beginning of the last century." This prompts the question: when did this happen? And was it the first wristwatch in the world?
Cartier and Santos-Dumont, a watch for flying - 1904
Bamberger continues: "He didn't know how he could control his beautiful aeroplane, this crazy machine, the Demoiselle. So one day he asked his friend Louis Cartier to make something different, because in those days there were only pocket watches. That's how Louis Cartier created the first wristwatch, which was named the Santos-Dumont watch in his honour." It was 1904 when Santos-Dumont talked to his friend Louis Cartier about his problem of using a pocket watch when flying. He was celebrating the Deutsch de la Meurthe prize, for the first flight from Parc Saint Cloud to the Eiffel Tower and back in less than thirty minutes, in a dirigible. His work on his pioneering aeroplane, the 14-bis (so-named because in tests, it was suspended under the dirigible number 14), came later, in 1906. But the Brazilian-born Santos-Dumont was a great personality in Paris, and he was nicknamed "le petit Santos." High society Parisians soon caught on to his eccentric dress style, including high-collared shirts and a Panama hat. So he contributed a great deal to the popularity of the wristwatch, once Cartier had created a watch with a leather strap and a small buckle. Today, the Santos-Dumont watch is still part of the Cartier range, with many versions, including skeletonized and women's as well as the classic men's.
Girard-Perregaux, a watch for the German navy - 1880
Another candidate for the world's first wristwatch is a model by Girard-Perregaux, or more precisely by watchmaker Constant Girard, who had founded his own company in 1852. It became Girard-Perregaux in 1856 after marrying Marie Perregaux. The watch in question was first made in 1880 on commission from Kaiser Wilhelm I for German naval officers. Two thousand watches were manufactured with the characteristic protective grille, and so this is without doubt the first large series of wristwatches ever made. But the product didn't become popular amongst the male general public, and this watch was discontinued. Much later, Count Ferdinand von Zeppelin used a Girard-Perregaux watch to time the flights of his airships, therefore mirroring Santos-Dumont. Girard-Perregaux's wristwatches began to become universally popular from about 1910.
Patek Philippe - an early women's wristwatch - 1868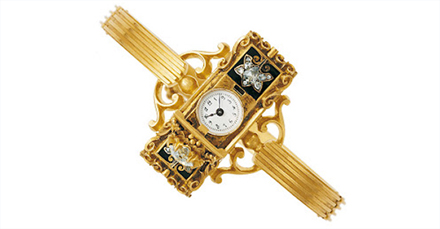 In actual fact, one of the first wristwatches dates from much earlier. Patek Philippe made its first wristwatch in 1868, and it was sold to the Countess Koscowicz of Hungary in 1876. This was a large and ornate piece wound with a key. It looked something like a triptych, with two diamond and gold panels on each side of the timepiece itself. From then on, wristwatches were really a women's thing, and so they were often heavily jewelled bracelets, with the watch reduced to an accessory.
Bracelet watch by Capt & Freundler, Geneva - 1813
Going back even further, one of the oldest bracelet-watches was made by Capt & Freundler à Genève in 1813. This piece is exhibited at the Musée d'Horlogerie du Locie, Switzerland.
Breguet's first wristwatch - 1812
Just one year earlier, French watchmaker Breguet created what it describes as the "first wristwatch in horological history." This piece was ordered in 1810 by Caroline Murat, Napoleon's sister, and queen of Naples. It was delivered in 1812. The brand's Reine de Naples range is named after Murat. Breguet ran an exhibition at Cité du Temps in Geneva, coinciding with SIHH, from 16 January to 12 February 2012. The watch was reference number 2639, and it seems no longer to be in existence, though Breguet exhibited some information on the watch from its archives.
Marie Antoinette, Queen of France (1755-1793) was an enthusiastic collector of fine timepieces, and one of the most beautiful and complex pocket watches of all time was commissioned for her from Breguet in 1783. It had all the complications that could be conceived at that time. It took 44 years to complete, and was finished 34 years after the unfortunate queen had been beheaded. But did she actually own a wristwatch?
Unknown watchmaker for Queen Elizabeth I - late 1500s
Another even earlier queen, Elizabeth I (1533-1603) of Britain, also loved time-pieces, and records document that the Queen's Equerry, the Earl of Leicester, gave her a jewelled watch mounted on an armlet – making it very close to the contemporary wristwatch. (She also had a ring watch, which incorporated an unusual alarm mechanism. A small pring emerged and scratched her finger - albeit delicately!) Details of this have, like the Breguet 2639, disappeared into the mists of time.
To conclude, we could say that before Cartier and the Santos-Dumont watch, watches were purely for women, and were fundamentally decorative status symbols. They were rather derisively referred to as "wristlets," and gentlemen preferred pocket watches until Santos-Dumont, and the practical necessities of World War 1, changed the situation. Just another facet of the fascinating subject of measuring time.