When I was growing up in Hong Kong, I always remembered Sheung Wan as the far west end on the island. What began as a humble district in the Port of Hong Kong so many years ago has developed into a hot spot over the last decade. Within walking distance from the posh business and shopping hub of Central, Sheung Wan is well worth a visit for an insight into one of Hong Kong's most fascinating historic neighbourhoods.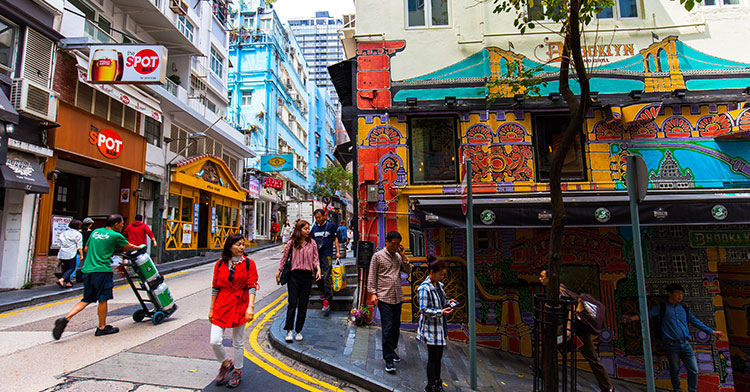 When Hong Kong first opened up as a port for trade in the mid-19th century, Sheung Wan was a place where street performers gathered, providing the locals with cheap entertainment. Not only could you watch kung fu demonstrations and puppet shows, you could even get your portrait drawn by a streetside artist or see someone's monkey doing tricks for a few dollars.
After World War II, a land reclamation project turned Sheung Wan into a larger area. The locals used to call it 'Tai Tat Dei' – which literally means a big piece of land – attracting even more entertainers to this area to make a living after the conflict.
For the Hong Kongnese, entertainment is not complete without good food. Tai Tat Dei attracted residents and visitors not only with shows, but also with its famous, wok-fresh dishes prepared with locally-caught crabs, clams and squids. Seeing the popularity of this new dining scene, a number of street performers swapped their trade to become seafood vendors, setting up shops along the street.
This unique history of Sheung Wan brings us to Des Voeux Road West which over 200 seafood shops call home. The locals named it 'Hoi Mei Street' — for its concentration of seafood goods stores. A powerful waft of salty dried fish fills the air as you walk down this long road. Look for abalone, oysters, scallops and seaweed. Why not bring some home as a souvenir?
At the intersection of Queen's Road and Bonham Strand — is where Hollywood Park­ is located. With a beautiful pagoda-style entrance, this historic park was built in the 1960s. Don't get lost in the beauty of its Chinese-style landscaping though, because we still have some exploring to do.
Next, let's visit Sheung Wan's historic 'medical district' starting from One Hospital Road. This was where the British set up medical buildings in the 1860s when Hong Kong was a colony. Here, you will find the David Trench Rehabilitation Centre, the Prince Philip Dental Hospital and Tung Wah Hospital.
Sandwiched between Hospital Road and High Street — is King George Fifth Park­, another reminder of Hong Kong's British past. The densely built neighbourhood gives way to a more relaxed, atmospheric area dotted by centuries-old trees and low, four and five-storey tenement buildings, a rare sight in the city nowadays. 'Old Hong Kong' comes alive surreally between the Methadone Clinic on Eastern Street — and the colonial hospital staff quarters with its imposing stone-built façade on High Street.
Visiting Sheung Wan, you get a sense of history. Walking through the neighbourhood, you will notice that it is an international hub where French bakeries, American bars, clubs, Italian restaurants, spas, art galleries and film production companies sit alongside Chinese barber shops, rice vendors, temples, coffin makers, local community centres, public schools and even bathhouses dating from the colonial era.
So the next time you go to Central to shop or dine, don't forget that Sheung Wan is just a few streets away. A different Hong Kong is there to be discovered.
Where
While Hong Kong districts do not have visible borders, Sheung Wan starts roughly where Wellington Street ends and Bonham Strand begins. If you are taking the MTR, just get off at the Sheung Wan stop. If you are on foot, keep walking west from Central along Connaught Road Central, Des Voeux Road or Queen's Road, all of which lead you to this eclectic district.
Great eats from morning till evening
Breakfast/Lunch Teakha Café – Lifestyle concept tea café
Shop B, 18 Tai Ping Shan Street, Sheung Wan, Hong Kong
Tel. +852 2858 9185
Lin Heung – Classic Hong Kong dimsum
160 Wellington Street, Central, Hong Kong
Tel. +852 2544 4556
Brunch/Dinner
The Press Room – Modern Brasserie
108 Hollywood Road Central, Hong Kong
Tel. +852 2525 3444
Trattoria Doppio Zero – Fusion Italian
G/F, The Pemberton
22 Bonham Strand, Sheung Wan, Hong Kong
Tel. +852 2851 0682
Happy Hour/Night Cap
Classified – Boutique wines & gourmet coffee
108 Hollywood Road, Sheung Wan, Hong Kong
Tel. +852 2525 3454