MAXIMA ZORREGUITA
Whilst working for finance company Dredner Kleinwort Benson in New York in 1999, Argentinian born Maxima met Prince Willem-Alexander of the Netherlands. The prince introduced himself only as 'Alexander' and it was some weeks before he divulged his title and family to her.
The relationship caused controversy in the Netherlands, due to Maxima's father's involvement in the National Reorganisation Process in the Dirty War in Argentina. As such, neither of her parents attended Maxima's wedding.
The couple now have three daughters and Maxima is involved in political, financial and social conferences around the world. An open supporter of gay rights, she was the first princess to show her support for LGBT rights at a conference in 2008. She became Queen in 2013, after Queen Beatrix abdicated the throne.
Jetsun Pema
Her Majesty, The Queen of Bhutan was seven years old when she was introduced to Prince Jigme Khesar at a family picnic, he was ten years her senior. He apparently fell in love with her at first sight and told her that if they were still single as adults, they would marry.
True to his word, on 20th May 2011 Khesar announced he would marry Jetsun in that October. In marrying Jetsun, he has made her the first 'commoner' queen of Bhutan.
Deifying another tradition, Bhutan which allows polygamy, the King has said he will never marry another woman stating that 'I cannot say how she might appear to the people, but to me, she is the one.'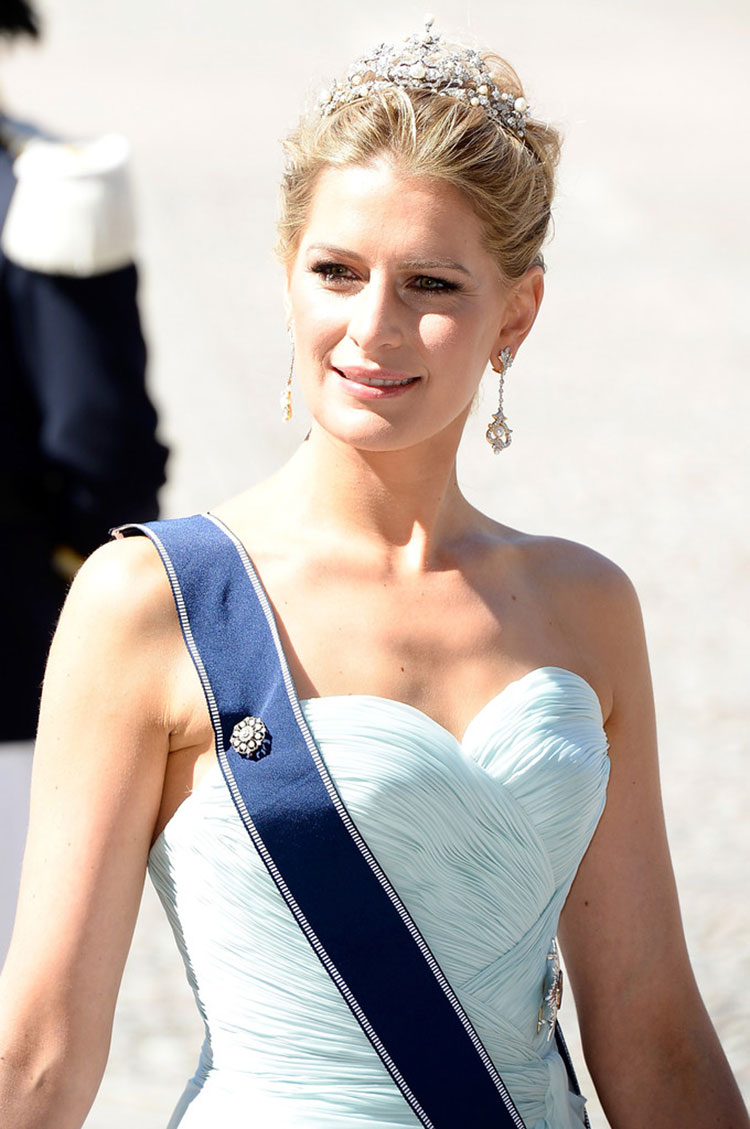 Princess Tatiana of Greece and Denmark
Previously an event planner for Diane Von Furstenberg, Tatiana Blatnik, who was raised in Switzerland but is of Russian Jewish origin, met Prince Nikolas in 2000, but they did not marry until 2010. Her stepfather, Attilio Brillembourg is the owner of a New York financial services company. She is now officially styled as Princess Nikolas of Greece and Denmark. The couple resides in London.
Queen Rania of Jordan
The first royal to have her own Facebook, Twitter and Instagram account, Queen Rania of Jordan regularly tops the most beautiful women in the world polls. She is the daughter of Palestinian businesspeople.
In 1993, Rania was working in marketing for Apple when she was invited to a dinner party with a colleague. It was here she met her husband, Jordanian Abdullah bin Al-Hussein when he was still heir to the throne. The prince reportedly fell in love with her that night, and they announced their engagement two months later. On her husband's ascension in 1999 she was proclaimed queen. The couple have four children.
Rania is a strong female voice in the Arab world, regularly declaring her commitment to women's issues, as well as health, education and human rights.
Queen Silvia of Sweden
Born in Germany in 1943, Silvia Sommerlath worked at the Argentine Consulate in Munich as an interpreter for much of her single life. She speaks six languages: Swedish, her native German, Portuguese, French, Spanish and English. In 1972 she met Crown Prince Carl Gustaf at the Summer Olympics. They were married in 1976 and have three children; Silvia is now the longest serving Queen Consort of Sweden and the first Commoner Queen ever.
Charlene Wittstock
South African born Charlene was an Olympic swimmer when met Prince Albert II of Monaco, whilst she was visiting the principality in 2000. However, the relationship has been far from smooth, with reports Charlene tried to leave the Prince before their 2011 wedding.
She is an official Special Olympic Ambassador and regularly travels the world to promote 'using the power of sport to change lives.' She is styled as 'HSH the Princess of Monaco', the previous holder of this was her mother-in-law, Grace Kelly.
Kate Middleton
The Duchess of Cambridge's story is possibly the most famous of all the commoner princesses'. After meeting the British Prince William at university in 2001 the couple embarked on a relationship for nearly a decade before becoming engaged in late 2010.
After their lavish wedding in 2011, the couple have taken several well published visits around the world and regularly appear at public events, along with their one-year old son, Prince George, who is third in-line to the throne.
Middleton is prominent for her fashion style and is regularly placed on the best-dressed lists; she is also active in international charities and foundations as an ambassador and spokesperson. Her full title is Her Royal Highness The Duchess of Cambridge, Countess of Strathearn and Lady Carrickfergus.
Queen Letizia Ortiz of Spain
Letizia was born to middle-class parents in Oviedo, Spain, before moving to Madrid as a teenager. After qualifying from university, she became a correspondent in numerous locations around the globe. Most notably, she reported from Washington DC, on 2000 the presidential elections, and broadcast live from Ground Zero following them 9/11 attacks in New York City and in 2003 filed reports from the Iraq war
After a short relationship it was announced in 2003 that Leitizia was engaged to the Prince of Asturias, now Felipe VI of Spain. Since her marriage she has renounced her journalism career and now travels extensively as part of her royal duties.
On 18th June 2014, Letizia became Queen of Spain following the abdication of King Juan Carlos, her husband's father. Styled as 'Her Majesty', she is the first Queen of Spain to have been born a commoner.
Grace Kelly
A real-life Hollywood lovestory, American born Grace was 26 when she met Prince Rainier of Monaco at a photoshoot that she almost missed. They were married in 1956 and had three children. However the marriage was cut short in 1982, when the Princess of Monaco was killed in a car crash.
And one for the boys...
...Daniel Westling, His Royal Highness Prince Daniel the Duke of Västergötland.
Originally his wife's personal trainer, Daniel married The Crown Princess Victoria of Sweden in 2010. Her mother, the Queen of Sweden was the first commoner queen in the world, and insisted on sending Daniel to 'Prince School' before officially titling him after the marriage.