1. Selfridges
They've been at it for quite a while. The vast Neoclassical building on Oxford Street was opened by Harry Gordon Selfridge just over a century ago, and from then on they've been pioneering retailing techniques. They virtually invented window shopping, and Harry was the first to allow customers to interact unhindered with the items from sale. It's a great store at which to discover Brit design names such as Vivienne Westwood, Paul Smith, Mulberry, Barbour, Burberry, Aquascutum and many more.

Selfridges & Co: 400 Oxford Street, London, W1A 1AB, www.selfridges.com
2. Harrods
Harrods is as much London as Tower Bridge. With seven floors providing four and a half acres of exhibition space, the store at 87-135 Brompton Road receives over 15 million customers every year. Its motto is "Omnia Omnibus Ubique," All things for people, everywhere.
Founded by Charles Henry Harrod in 1824, in Southwark, it later moved to the Brompton area, survived a fire that destroyed the building in 1883, and continued business in a new building completed in 1905. The 330 departments offer virtually everything under the sun, including, from 2009, gold bars and bullion coins in weights from 1 g to 12.5 kg. At Harrods you can make a day of it, as there are several fine dining restaurants, bars, macaroons at Ladurée, pastries and light meals at Florian, and many more. The Food Hall is world famous.
Harrods: 7-135 Brompton Road, London SW1X 7XL, Tel: +44 (0) 207 730 1234 www.harrods.com
3. Asprey
Asprey's is a brand whose history runs back to 1781. Today, its flagship store on 167 New Bond Street presents a range of jewellery, watches, china, crystal, gifts and books. It is famous above all for its bespoke service. Goods can be personalized as desired, or specially commissioned. To name just one example, they made a chess set in 1973 for Beatles drummer Ringo Starr, in sterling silver and gold plate.

Asprey London: 167 New Bond Street, London, W1S 4AY, Tel: +44 (0) 20 7493 6767, www.asprey.com
4. Liberty
On Regent Street, the store lies behind one of London's most recognizable façades, while inside, the interiors include wooden balconies including timbers reclaimed from two Royal Navy ships. The top floor is dedicated to interiors, with many vintage and one-off pieces. Products include fashion and accessories, beauty, gifts, fabrics, home design and stationery, presented in a half-timbered store that is a real joy to behold.
Liberty: Great Marlborough Street, London W1F, +44 (0) 207 573 9484, www.liberty.co.uk
5. Harvey Nichols
This boutique department store was one of the late Princess Diana's shopping havens. The eight carefully-designed floors feature many fashion brands, including some exclusive labels. There are also food and wines galore, with wine-cellar management service, masterclasses and tastings. The personal shopping experience is particularly well-developed here, including out-of-hours shopping and dedicated personal shoppers.
Harvey Nichols Knightsbridge, 109 - 125 Knightsbridge, London, SW1X 7RJ, Tel: +44 (0)20 7235 5000, www.harveynichols.com
6. Fortnum & Mason
This is actually the world's first department store, famous above all for its fine foods. It holds all three Royal Warrants, and it is the only store in which you can try food from the royal Sandringham estate, and purchase decanted Caron fragrance outside Paris. Exclusive services include total store closures, and deliveries in its historic horse and cart.
Fortnum & Mason: 181 Piccadilly, London, W1A 1ER www.fortnumandmason.com
7. Rolex at One Hyde Park
The UK Rolex flagship store is at One Hyde Park, famous as Britain's most exclusive residential address. You can browse the largest collection of Rolex watches in the UK, in a sophisticated setting behind an Italian aqua glass façade. Whether you're looking for the latest products such as the Sky-Dweller, or classics such as the Yacht Master and the Oyster Perpetual Explorer, if you're fascinated by the intricacies of fine watch-making, you'll love it here.

The Watch Gallery: 100 Knightsbridge, London SW1X 7LJ, +44 (0) 20 7292 0345, www.thewatchgallery.com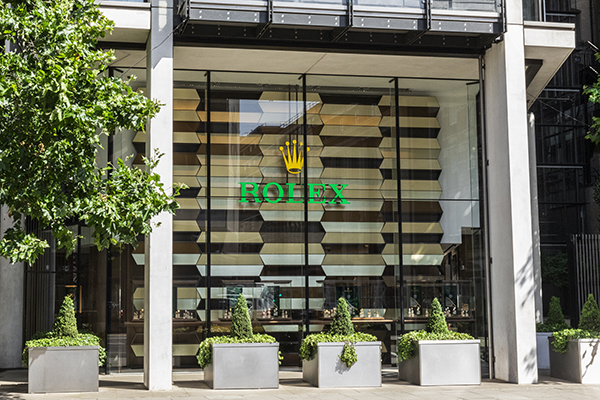 8. The Jet Business
If you think that an executive jet is a product that at first sight would be difficult to fit into a high street store, think again. The Jet Business is the world's first high-street store for business jets, located at One Grosvenor Place in London. The concept was created by Steve Varsano, who has been in the business for decades. The store includes a life-size business jet cabin, and a giant TV screen on which various aircraft can be displayed with details at full size.

The Jet Business: 1 Grosvenor Place, London SW1X 7JH, Tel: +44 (0) 7842 888 888, www.thejetbusiness.com
9. Berry Bros. & Rudd
Berry Bros. & Rudd is a wine shop at 3 St. James's Street, London, and it is a shop with a long history. It was opened by a woman, Widow Bourne (apparently her first name doesn't actually appear in the archives) in 1698, cashing in on the latest fad of coffee. Her scales and the mill that she used can still be seen in this fascinating, olde-worlde interior. Today, Berry Bros. & Rudd specialize in wines and spirits, and you can browse the labels, take part in events staged in the lovely cellars, or build your own cellar with the store's Cellar Plan. It stocks some labels exclusively, including its own liqueur The King's Ginger.
Berry Bros. & Rudd: 3 St James's Street, London, Tel: +44 20 7022 8973, www.bbr.com
10. Borough Market
This covered market on Southwark Street is a fascinating maze of stalls, stands and carts, selling a vast selection of international food and drink specialities. Great fun because you can sample the produce! Loads of places where you can eat, such as Tapas Brindisa (Spanish), Monmouth Coffee Co. (great coffee and sweet or savoury snacks), and the Wright Brothers Oyster and Porter House, for the best oysters from France and Britain, washed down with a glass of champagne. The market is open on Thursdays, Fridays and Saturdays.

Borough Market: 8 Southwark Street, London SE1 1TL, Tel: +44 (0)20 7407 1002, boroughmarket.org.uk
Mushrooms at Borough Market (Flickr: S Pakhrin)
1 Selfridges & Co
2 Harrods
3 Asprey
4 Liberty
5 Harvey Nichols
6 Fortnum and Mason
7 Rolex at One Hyde Park
8 Jet Business
9 Berry Bros & Rudd
10 Borough Market