Home to a world-famous economic conference and a favoured skiing venue of the royals, the destination of Davos and Klosters certainly has a lot going for it...
1) A sky-high city
At an elevation of 1,560 metres, the almost mile-high city of Davos makes it the highest altitude city in Europe. With a population of over 11,000 inhabitants, this ski resort boasts a thriving community who support live events, concerts and sports year-round.
2) Life's on the slopes
Freerider, source: swiss-image.ch/Christian Perret
The heartbeat of this town races at the thought of skiing. Over 110 slopes ranging from 1,500 to over 2,500 metres in altitude accommodate all styles and levels of winter sports enthusiasts. Snow lovers can ski all day from sunrise skiing on Parsenn Mountain to freestyle and night-skiing on Jakobshorn. Expect to find restaurants, bars, and even learn how to build an igloo without ever leaving the high Alps.
3) Languages
Local residents speak Swiss-German, the official town language. English comes in a close second, with most shop and restaurant staff able to converse easily. If you practice German, don't be surprised to discover Swiss-German words like 'schoggi' for chocolate (which refers to anything from hot chocolate to chocolate cakes) rather than 'schokolade' which you may have learned in school.
4) Annual Global Conferences
Annual conferences, Davos, source: swiss-image.ch
Davos pops into the headlines each year in January as world leaders gather here on top of the world to take the global economic pulse at an annual meeting of organizations. The conference sees business leaders like Bill Gates and CEOs from General Motors, Credit Suisse, Hitachi, and Microsoft join with heads of state to shape future trends. Celebrities like Matt Damon and Bono have also made appearances. If you come to the city during the week of 20-24 January 2016, be prepared to deal with tight security. Locals say it's a great time to ski since the slopes remain mostly unused, but finding a hotel room may prove tough if you're not a forum participant.
5) Royal altitudes
While a parade of VIPs invade Davos each year, nearby neighbour Klosters tantalises royals and celebrities with its laid-back atmosphere and spectacular scenery. Just seven kilometres from Davos, the small village of Klosters is a favourite of the British royal family who often winter here. Prince Charles has been spied painting canvases of its traditional chalets and landscapes.
6) A summer resort first
Alpine Spa, Intercontinental Hotel
Before skiing and winter sports appealed to crowds, Davos' light and mountain air attracted people who wanted to restore their health. The Berghotel Schatzalp was built first as a sanatorium in 1900 before its conversion to a hotel. The spa tradition continues with Eau là là, the town's wellness centre. If you indulge in sunbathing, be sure to bring along suntan lotion to protect from the intense mountain rays.
7) Rösti rules
Source: Flickr/Jules
While fondues remain a Swiss food staple, rösti, a dish of sliced and diced fried potatoes, can be found on menus as a local favourite. Served with eggs, steak and other updated variations, it is popular with skiers after a day of sports. Add a side of Röteli, the sweet cherry liqueur common to the Grisons Canton, to warm up après ski.
8) Swiss chalets, flat roof houses, and a golden egg
Intercontinental Hotel, Davos
The Davos style of flat roof houses contrasts with the traditional Swiss style wooden chalets of Klosters in the neighbouring valley. Davos' flat roofs aimed to protect the buildings from avalanches and wide windows invited in sunlight. At the edge of the city of Davos, the InterContinental Hotel carves out a new style. Referred to as the 'Golden Egg,' the initial concept for this unique building belonged to renowned Italian architect Matteo Thun, who later relinquished it when the building plans changed.
9) If you don't love hockey, go home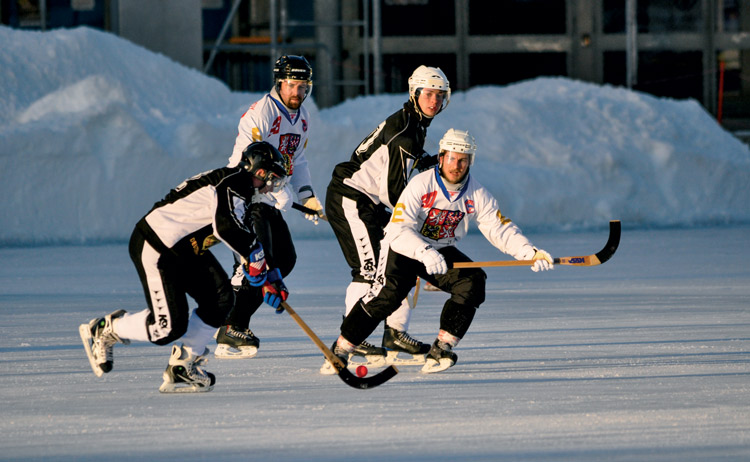 Photo courtesy of Destination Davos Klosters
With Europe's largest natural ice skating rink, it's not surprising that Davos loves skating sports. The ice rink spans 18,000 metres and may contribute to the Davos hockey club's phenomenal winning streak. The club has won the Swiss league championship over thirty times. Town bakeries and chocolate makers pay tribute to the club with cookies trimmed in the team's blue and yellow club colours and chocolates emblazoned with the club's stamp. The Davos Spengler Cup boasts the title for the oldest international ice hockey tournament. It began in 1927 and takes place annually.
10) Money matters
The Swiss love cash and some smaller shops and vendors may not take credit cards, so it's a good idea to keep some Swiss francs on hand. Some shops may accept euros in currency, but will return the change in francs.