Sunday – Zuma
We fell in love when it first opened in London and now with two locations in the U.A.E The Zuma brand is a firm favourite for delicious Japanese fare. Zuma Abu Dhabi opened its doors March 2014 in the heart of the new Central Business District. The look and feel has the Zuma stamp that's consistent across all of their venues: stone, glass, wood and steel throughout.
The bamboo entrance and the dramatic effect from the exposed rock behind the sushi counter was designed by Noriyoshi Muramatsu of Studio Glitt, and as for the views, you can see across the Al Maryah Island, which is undoubtedly more inspiring than the views of DIFC at the Dubai location. Expect impeccable service and deliciously fresh and authentic ingredients. The fried calamari, spider roll, lobster with shiso-ponzu butter and salmon are all highly recommended, but be sure to leave room for dessert.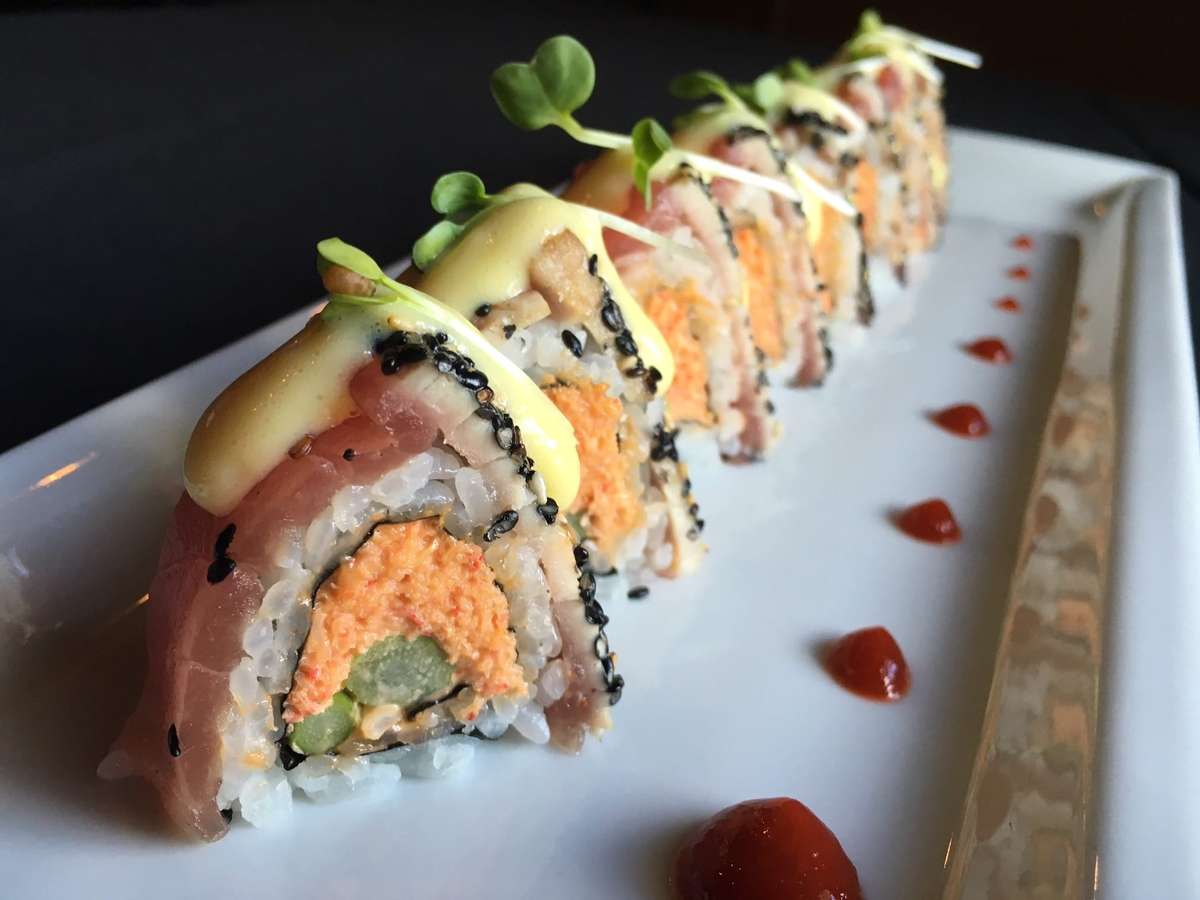 Zuma, Sowwah Square, The Galleria Al Maryah Island, Abu Dhabi, Tel: +971 2 401 5900, www.zumarestaurant.com
Monday - Iris
Iris on Yas Island is picturesque to say the least. This restaurant and bar is an open rooftop with stunning views over the marina. If you're looking to go out on the town, this is a popular spot on Mondays as for "Heels and Martini's" night. Ladies can indulge as they receive complimentary martinis from their All-Star menu from 8pm to Midnight. While you're there, be sure to sample their prawn tempura and Scottish salmon tartare.
Yas Island, Yas Marina Building 1, Tel: +971 55 160 5636, www.irisabudhabi.com
Tuesday – Brasserie Angélique
For those who enjoy classic French cuisine, the Parisian style Brasserie Angélique in Jumeirah Etihad Towers is a must. Expect a relaxed atmosphere with bistro-style seating in a beautifully decorated space with luxurious furnishings.
LUXOS recommends: the five-course Menu Degustation.
With a wealth of accolades including Time Out Abu Dhabi's Best Contemporary European Restaurant 2014 and Restaurant of the Year 2014 you're destined for a wonderful culinary journey at Brasserie Angélique.
Podium Level 3, Jumeirah at Etihad Towers, Ras Al Akhdar, Abu Dhabi, Tel: +971 2 811 5666, www.jumeirah.com
Wednesday – Catch
Catch, as the name suggests, is a seafood restaurant that's become one of Abu Dhabi's fine-dining hotspots when it opened January 2015. This swanky restaurant and lounge has a Caribbean chic, white wood exterior with spectacular views overlooking the Corniche. Inside, the décor is an mélange of maritime and Mother of Pearl complemented with beautiful wood finishing, and an earthy modern feel.
The glass-walled hot kitchen is an experience all of its own, so guests can dine and watch the chefs at work. There's also a completely open cold kitchen with two sushi counters. For an interactive experience, guests can dine at the counter and speak to the chefs as they create their gourmet masterpieces. As for the menu, it's full of fresh, seasonal ingredients with Asian and Middle Eastern influences. Try their signature Sea bass dish "Papillotte Style".
Catch, National Riviera Towers, Corniche Road West, Abu Dhabi, Tel: +971 2 611 0909, www.catch.ae
Thursday – Asia de Cuba
Another newcomer to the Abu Dhabi dining scene, this highly anticipated fusion restaurant opened earlier this year in the St Regis Hotel. It's the brainchild of American restaurateur, Jeffrey Chodorow, who opened the first Asia de Cuba in New York in 1997.
The menu is an eclectic fusion full of impressive dishes made with authentic Cuban ingredients like: ropa vieja, plantains, yuca, chicharrones and vaca frita. Now, imagine these ingredients combined with flavours from Chinese and Thai cuisine — simply divine. Our recommended dishes include: scallop ceviche, goats cheese fritters, spicy lobster sofrito and the chino latino fried rice. Be sure to book a table outside and take advantage of the beautiful winter weather.
Corniche Road, St Regis Hotel, National Riviera Beach Club, Abu Dhabi, Tel: +971 2 699 3333, www.asiadecuba.com
Fridays – Sho Cho
If you enjoy contemporary Japanese food you're in for a real treat. The Sho Cho brunch is great value and includes delicious dishes from their hot and cold kitchen. Tantalise your taste buds with salmon gyoza, beef tataki, ceviche, tuna tartare, steamed hammour, rock shrimp, prawn tempura, and an assortment of sushi. Outdoor seating on their seaside terrace has views of the marina and the Grand Mosque. Music is a big part of the Sho Cho brand and on Fridays there's a brunch DJ who plays funky house music and later in the evening there's second DJ who plays the best 80s and 90s music.
Souk Qaryat Al Beri (next to the Shangri-La hotel) Abu Dhabi, Tel: +971 2 558 1117, www.sho-cho.com
Saturdays – Yas Beach
For some well-deserved R&R, Yas Beach is a must. Book a double cabana, order yourself a cocktail and bathe in the sunshine while taking in the pristine surroundings of this private beach club. There's a resident DJ who plays house music Fridays and Saturdays, so you can leave your portable speakers behind. If you're looking for some fun activities there's beach volleyball, kayaking, SUP and Hobie Cat sailing boats available to hire. If you'd prefer to indulge, there's an outdoor restaurant with delicious Mediterranean dishes.
Yas Beach, Yas Island (opposite Crown Plaza Hotel), Abu Dhabi, Tel: +971 56 242 0435, www.yasbeach.ae
Read More: One week in Dubai
1 Zuma
2 Iris
3 Brasserie Angélique
4 Catch
5 Asia de Cuba
6 Sho Cho
7 Yas Beach